There are very few words that I actively try not to use. However, ugly is one of them. It's far too easy to say "I don't like that house, it's ugly!" It's difficult to say "I don't like that house because…" Much like beauty, ugly is in the eye of the beholder and is extremely subjective. However, there are a few objective things to address when designing your house to curb potential ugliness. Well, actually… they're border line subjective as well.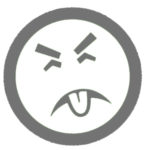 ug-ly • [uhg-lee] • ADJECTIVE
1. very unattractive or unpleasant to look at; offensive to the sense of beauty; displeasing in appearance.
2. disagreeable; unpleasant; objectionable.
3. offensive to the sight.
No two clients have the same needs or wants for their house and each house has its own unique set of circumstances that need to be resolved or addressed. However, a few 'rules' are omnipresent- materials, massing, scale, and proportion. These are means/methods available to an architect to assist in the development of their designs. Addressing them will go a long way to creating an aesthetically pleasing house. Keep in mind, these 'rules' are typically broken and remain successful. However, one must first know the rules in order to bend/break them successfully.
Materials should be limited to three (3) on the exterior of a house. Materials should be appropriate for their use- don't wrap columns in vinyl siding. Not counting the foundation, no more than two (2) wall materials should be visible on the exterior of a house. This stems from simplicity and ease of construction. Use of more materials creates an aesthetic of fragmentation and no sense of overall design cohesion. This in turn leads to visual distraction. The use of fewer materials allows focus on the composition of the design and is typically an indicator of a confident architect. Employ fewer materials executed to a higher degree of proficiency.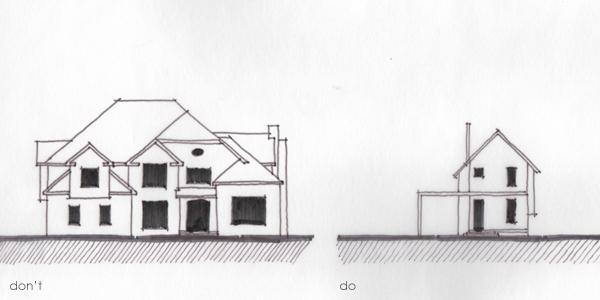 Massing should be simple. No matter the aesthetic of a house, the massing should be composed of simple forms. This will typically translate to building shapes that are efficient and sensible. There should be a hierarchy of massing. Most houses are composed of more than one single mass. The most important, or most public part of a house, should be the most prominent mass of the house. The massing of a house should rapidly and clearly show two things- the main 'body' of the house and the location for people (not cars) to enter the house.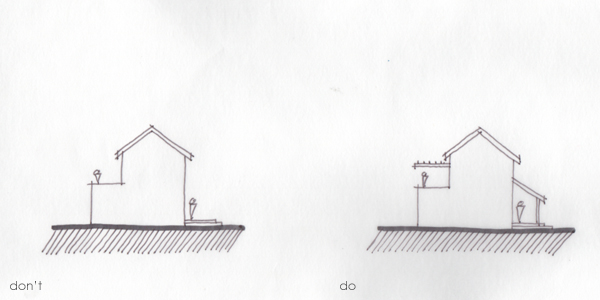 Scale refers to how one perceives the size of the house elements or spaces in relation to other elements and spaces. Both building scale and human scale need to be addressed. Building scale is how the size of building elements relate to each other. Human scale is how the building elements and spaces relate to the human body. Two differing scales can be used simultaneously, and an architect can alter ones perception by use of scale. There are no hard-fast rules for scale, but a designer must be aware of both building and human scale in order for a successful design.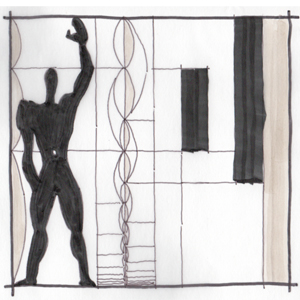 Proportion refers to the relationship of one element to another in terms of quantity, size, or number. It's the comparative relationship of differing parts to the whole. There are various proportion 'devices' developed over the years to aid architects and guide them in their designs… the Golden Section, Modular Man, the 'Ken'…etc. Various proportions can be found throughout nature. It makes sense to design a house in harmony with proportions that naturally occur in the world. Proportion applies to all aspects of the design of a house. Proportion should not be used arbitrarily; simple harmonious proportions should be used throughout the design of a house.
It's beneficial to know why you don't like something so you don't repeat the same thing. The next time you find yourself thinking/saying a house is ugly, rather than say it's ugly, try and describe what it is you find displeasing about the house. It's highly likely you can trace it to a lack of understanding of materials, massing, scale, and proportion.
Design On,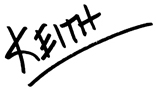 * This post is part of the ArchiTalks series in which a group of 'blog-ing' architects select a topic and the group all post on the same day and promote each other's blogs and read varying takes on the topic. This month's topic is 'Ugly.' To read how other architects interpreted the topic please click the links below:
Lee Calisti, AIA – Think Architect (@LeeCalisti)
ugly is ugly
Lora Teagarden – L² Design, LLC (@L2DesignLLC)
Ugly Architecture Details
Jeremiah Russell, AIA – ROGUE Architecture (@rogue_architect)
unsuccessful, not ugly: #architalks
Eric T. Faulkner – Rock Talk (@wishingrockhome)
Ugly is in The Details
Michele Grace Hottel – Michele Grace Hottel, Architect (@mghottel)
Ugly
Brian Paletz – The Emerging Architect (@bpaletz)
Ugly, sloppy, and wrong – oh my!
Eric Wittman – intern[life] (@rico_w)
[ugly] buildings [ugly] people
Jeffrey Pelletier – Board & Vellum (@boardandvellum)
Is My House Ugly? If You Love It, Maybe Not!
Nisha Kandiah – ArchiDragon (@ArchiDragon)
the ugly truth
Jim Mehaffey – Yeoman Architect (@jamesmehaffey)
A Little Ugly Never Hurt Anyone
Mark Stephens – Mark Stephens Architects (@architectmark)
Ugly or not ugly Belgian houses?
Ilaria Marani – Creative Aptitude (@creaptitude)
ArchiTalks #30: Ugly
Larry Lucas – Lucas Sustainable, PLLC (@LarryLucasArch)
Die Hard: 7 Ugly Sins Killing Your Community