Design… the elusive design… the 'magic' of an architect. I find it difficult to describe the design process, specifically my design process, as all architects design differently. Sure, there are 'rules' and precedent architects can follow, local zoning and code implications, means + methods to 'work' out a design, etc. However, it's still a bit elusive for me to describe how it all happens. So let's start at the beginning.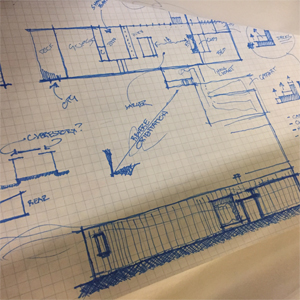 I do a lot of single family residential work… and a good portion of it is renovation/ additions. However, the same applies for new homes. Typically my initial meeting with a client is in their home. We walk through the house. The clients talk about their project. I spend most of the time listening and nodding my head… after all it's their project that they wish to share with me. I see the glitter in their eye as they discuss wishes and goals for the project. Really good clients have binders full of images they like. The best clients can describe why they like them. We flip through their image binders. They make more statements. Finally they've exhausted themselves.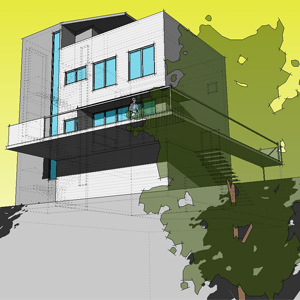 Then it happens. They look at me and ask, "So what's the answer? What will you design and what will it look like when it's done?" They seem to be waiting for me to snap my fingers, toss my cape back (I should start wearing a cape) and exclaim "I've got it! What it's going to look like is…" However, I don't work like that; I don't know the 'answer' immediately. Typically my response is "Yes. No. Something. I don't know." To which I'm greeted with a blank stare for two minutes… than a nervous laugh… then the client says "No, really, what's it going to look like?" I explain that I need time to think, to absorb what they've said- I need time to process.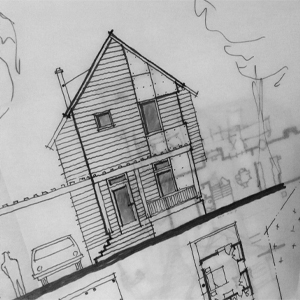 Initially, there is a vast amount of listening and observing conditions as they pertain to a project. The design starts with thinking about all I've gathered. Processing those thoughts into useful information that can be applied to the design. I think about a project a lot- both consciously and subconsciously- I mean a lot. It's typically weeks of ruminating in my head before I ever put pen to paper or knife to chipboard. Good design is intently listening, as well as hearing, and investigating the root of the design issue(s) at hand. Only after doing such can an architect respond appropriately and start 'Designing.' I suspect a majority of architects would agree with my process of design, at least at the very beginning.
Design On,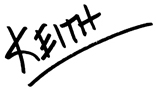 * This post is part of the ArchiTalks series in which a group of 'blog-ing' architects select a topic and the group all post on the same day and promote each other's blogs and read varying takes on the topic. This month's topic is 'Starting a Design.' To read how other architects interpreted the topic please click the links below:
Matthew Stanfield – FiELD9: architecture (@FiELD9arch)
Slow Down. Hold Still.
Lee Calisti, AIA – Think Architect (@LeeCalisti)
where do we start?
Lora Teagarden – L² Design, LLC (@L2DesignLLC)
How to Start a Design
Jeremiah Russell, AIA – ROGUE Architecture (@rogue_architect)
Starting a Design: #Architalks
Eric T. Faulkner – Rock Talk (@wishingrockhome)
On Your Mark, Get Set — Start a Design!
Michele Grace Hottel – Michele Grace Hottel, Architect (@mghottel)
."starting a design…"..
Meghana Joshi – IRA Consultants, LLC (@MeghanaIRA)
Architalks #35: Starting a Design
Brian Paletz – The Emerging Architect (@bpaletz)
Where do we begin?
Jeffrey Pelletier – Board & Vellum (@boardandvellum)
Where do you start when designing a new home?
Jim Mehaffey – Yeoman Architect (@jamesmehaffey)
First Thing's First
Tim Ung – Journey of an Architect (@timothy_ung)
5 Tips for Starting an Architecture Project
Mark Stephens – Mark Stephens Architects (@architectmark)
How it all begins…
Steve Mouzon – The Original Green Blog (@stevemouzon)
Starting Wrong – The Amazon Mistake