I Use SketchUp quite a lot. While BIM is the final presentation model, SketchUp is the down and dirty study model. I equate SketchUp as the electronic version of chipboard and BIM as electronic basswood. Anyone that reads this blog will know that I am a firm believer in actual physical models. However, I also realize the benefit of virtual models- a chipboard model is tough to attach to an email. Typically I'll create Schematic Design entirely in SketchUp, except for the floor plans which I'll hand draw or use 2d CAD. You can create the floor plans in SketchUp, however, I've never been satisfied with how long it takes to achieve a decent 'graphic.' With the SketchUp model, I'll generate elevations, roof plans, sections, and various perspective views. It's a quick and a great tool for visualizing in three dimensions. I've been using SketchUp since, well… um… let's just leave it at beta.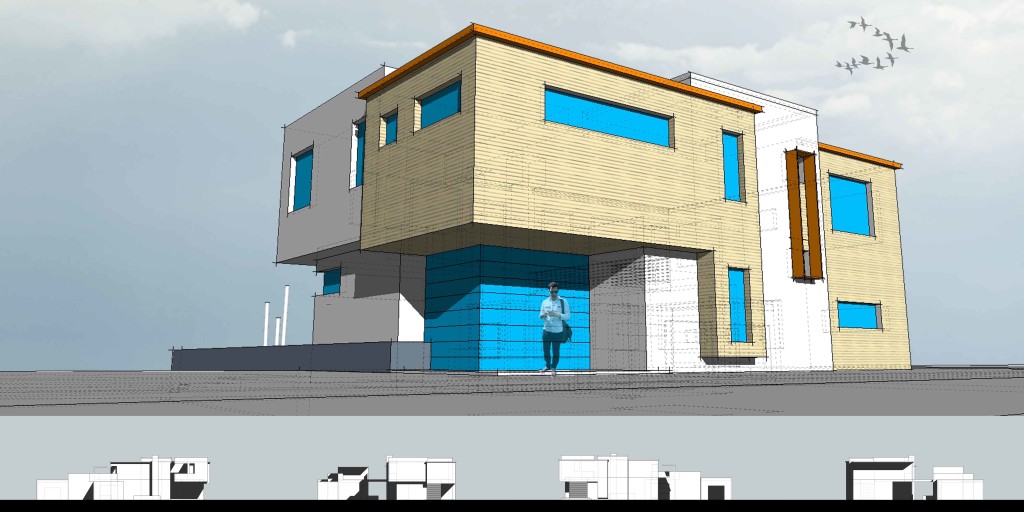 I'm often asked about how to use SkecthUp, or more typical, part of a discussion about the fear of learning Sketchup- it's one of the easiest programs to learn. SketchUp is an invaluable design tool. As such, I'm offering up some tips and general information for those looking to get started in SketchUp or those who want a brief refresher. Note that this post is based upon SketchUp version 8.0.16846 and may differ slightly from the most current Trimble version; it is also not meant as all encompassing, but rather a broad overview of some general tips and information.
The Basics
1. Resources:
a. There are numerous resources online to learn SketchUp, Start at the Help Center, here you'll find numerous tutorials and information: http://help.SketchUp.com/en
b. From within SketchUp, Instructor teaches how to use a tool when you select it- Go To: Window>Instructor
c. Click here to download a PDF-> Quick Reference Card for SketchUp
2. Toolbars- these are the basic toolbars that should be in your workspace:
a. Getting Started- Go To: View>Toolbars>Getting Started
b. Large Tool Set- Go To: View>Toolbars>Large Tool Set
c. Styles- Go To: View>Toolbars>Styles
d. Layers- Go To: View>Toolbars>Layers
e. Shadows- Go To: View>Toolbars>Shadows
f. Standards- Go To: View>Toolbars>Standards
g. Views- Go To: View>Toolbars>Views
3. Large Buttons, makes toolbars easier to read- Go To: View>Toolbars>Large Buttons
4. Axis- each axis has a solid line on one side of the origin and a dotted line on the other, the axis lines orientation is:
a. Solid Blue line extends up from the origin
b. Dotted Blue line extends down from the origin
c. Solid Red line extends East from the origin
d. Dotted Red line extends West from the origin
e. Solid Green line extends North from the origin
f. Dotted Green line extends South from the origin
5. Shortcut keys- when using the drop-down menus at the top, pay attention to commands that have a letter to the right, those are shortcut keys that you can use from the keyboard.
Setting Defaults and Saving Your Own Template
1. Open a new file and set all settings below to your own liking.
a. Setting the location and solar orientation
i. Go to: Window>Model Info>Geo-location * You'll have the option to geolocate or manually locate the model, geo-locating is more precise. Also note, location should be updated per a specific project location.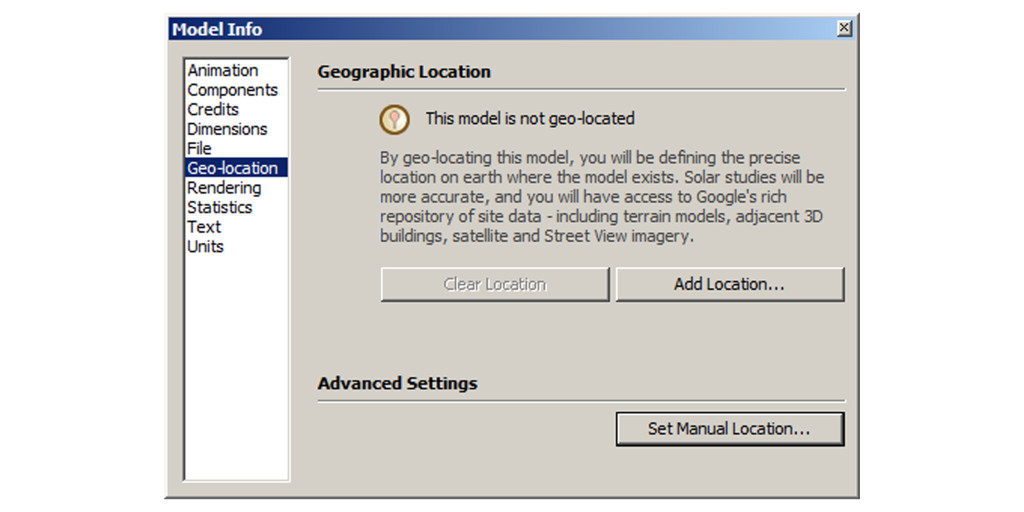 b. Styles
i. Go To: Window>Styles select the middle tab Edit and the first box Edge Settings, confirm the Display Edges box is checked, turn off all other options.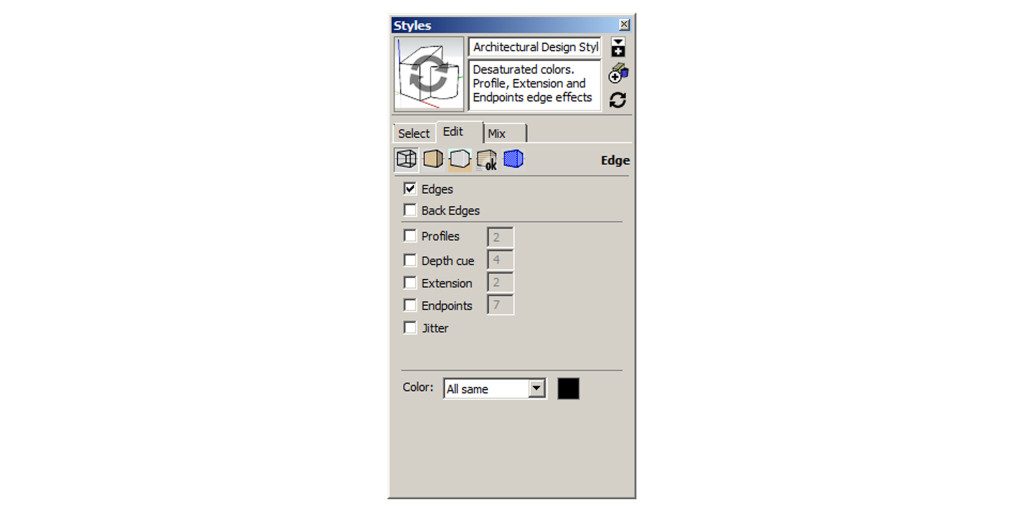 c. Face
i. Go To: Window>Styles select the middle tab Edit and the second box Face Settings, confirm the Front color and Back color are set to white. Confirm the Enable transparency box is checked and set to 'Nicer.'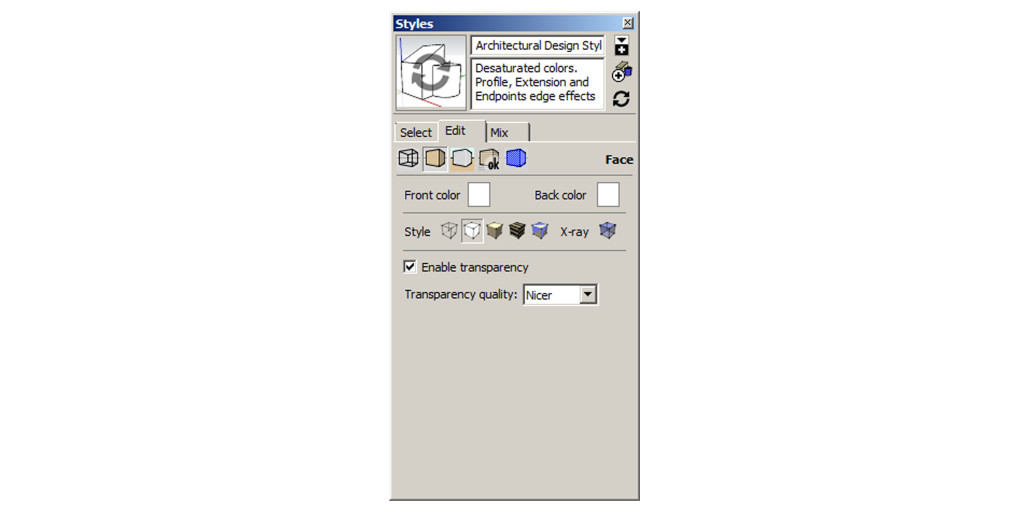 d. Background
i. Go To: Window>Styles select the middle tab Edit and the third box Background Settings, set the Sky and Ground colors to your liking.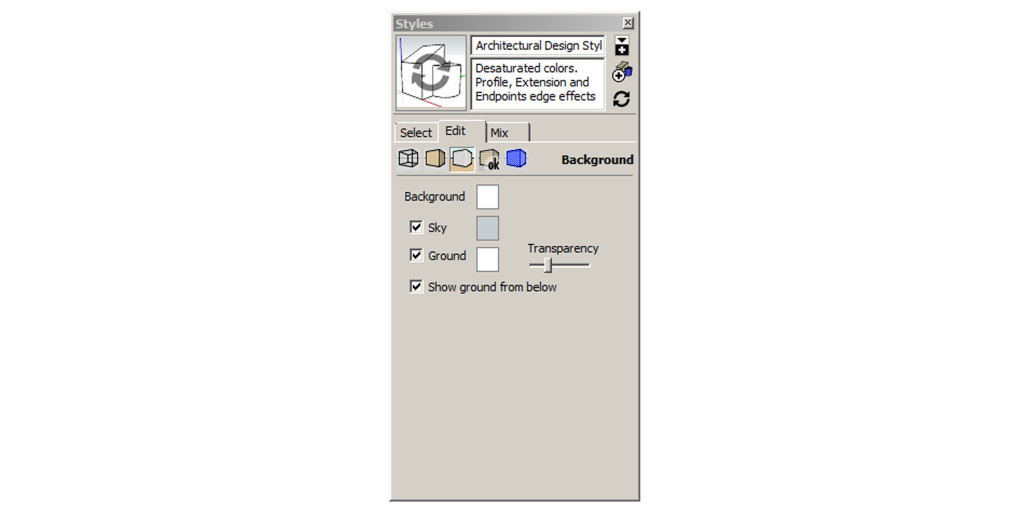 2. Saving your own template
a. After selecting the settings above, save the drawing.
b. Go to: Windows >Preferences>Template and Browse to find the file you just saved. Once this is set, whenever you open a new file, your settings will automatically be set in the model!
Modeling Basics
1. Always use the axis to draw Everything. Use the arrow keys on your keyboard to lock directions. The up and down arrows will lock the blue axis. The right arrow key locks the red axis and the left arrow key locks the green axis.
2. Make use of Groups and Components (I'll discuss Groups and Components in more depth in a future post).
a. Creating a Group is simply a way to combine several objects together, into one 'piece.' For instance you can create a window that is comprised of an upper and lower sash as well as glass. You can than make a group out of the 'pieces' which than makes it easier to edit and move it within the model. Groups can be copied and edited.
b. A Component is a type of group that when copied and repeated, if one component is edited all of the other components will change as well. This is useful for windows that are used repeatedly and is very helpful when creating units for multi-family buildings. For instance, you could create a Double Hung window unit and place it 40 times in your model, if you than edit one component to be a casement window, the other 39 update as well. Components can also be mirrored using the Flip command. The mirrored components retain their definitions, and are updated whenever an un-mirrored version is updated.
c. To create a Group or Component, select all the objects that you want included, right-click the mouse and select Make Component or Make Group, it's also found under the Edit drop-down menu at the top of the screen.
d. Groups and components can be edited by double clicking them.
3. When drawing shapes and lines, you can key in actual dimensions, look at the bottom right of the screen for the dimensions dialogue box.
4. The basics of modeling are to draw shapes, select from the toolbars or Go to: Draw drop-down menu. Than you manipulate the shapes by the Push/Pull tool and various others selected from the toolbars or the drop-down menus.
5. Linear Arrays create multiple copies of entities or geometries (use it for posts at an on-center spacing, siding, beams, etc.) To create an array:
a. Select the entity to be copied
b. Select the Move tool, press and release the CTRL (PC) or Option (MAC) key, the Move tool icon should now have a '+' sign.
c. Click on the selected entities to copy and move your mouse to copy, easiest if you key in dimension spacing, click destination point.
d. Type a multiplier to create additional copies, i.e. typing 4x will create a total of 5 copies, the original entity and the 4 copies.
e. There are several other ways to create linear arrays, as well as radial arrays, search online or use the SketchUp help forums.
6. Use Layers, they make it easier to control the visibility with-in the model and group similar 'pieces.' From with-in the Layers dialogue box select the '+' sign to create a new layer and name it as you wish. From this box you can also select which layer is 'current' and all modeling is currently being placed in.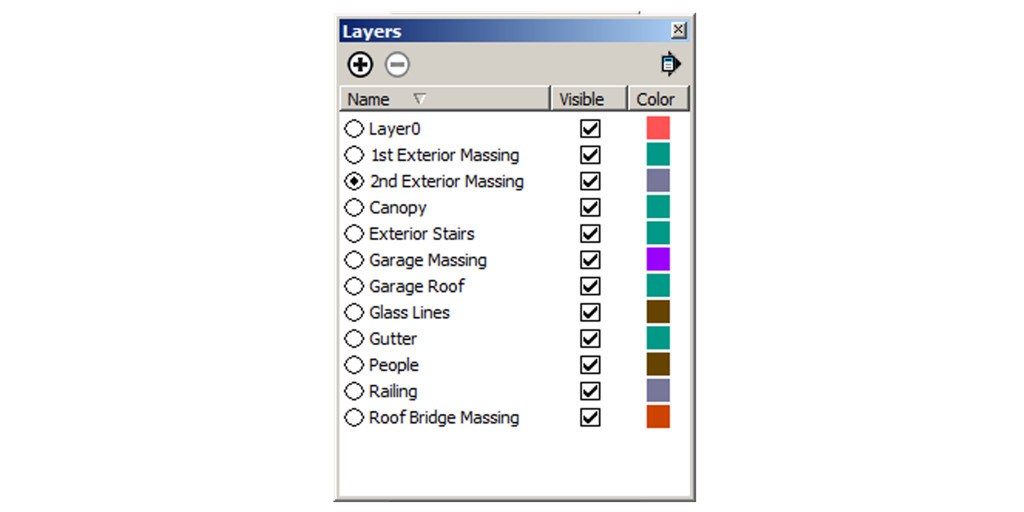 7. Use the Tape Measure tool to create drawing guidelines, it can be accessed either from the toolbar button, Go to: Tools>Tape Measure, or by pressing 'T' on the keyboard. After a while your model may have a lot of guidelines, you can delete them by, Go to: Edit>Delete Guides
8. You can import files to use as site plan or floor plan references, Go to: File>Import and select the type of file to import. You can scale the imported file by using the measuring tool to measure a known dimension and scale accordingly using the Scale tool.
9. The Follow Me tool is a great time saver for creating moldings. The tool will take any multi-sided plane (e.g., a section through a piece of molding) and extrude it along a line or curve. Draw the shape you want to extrude. Then select the Follow Me tool, click on the shape and drag it along the path you want it to follow.
Draw the shape you wish to extrude: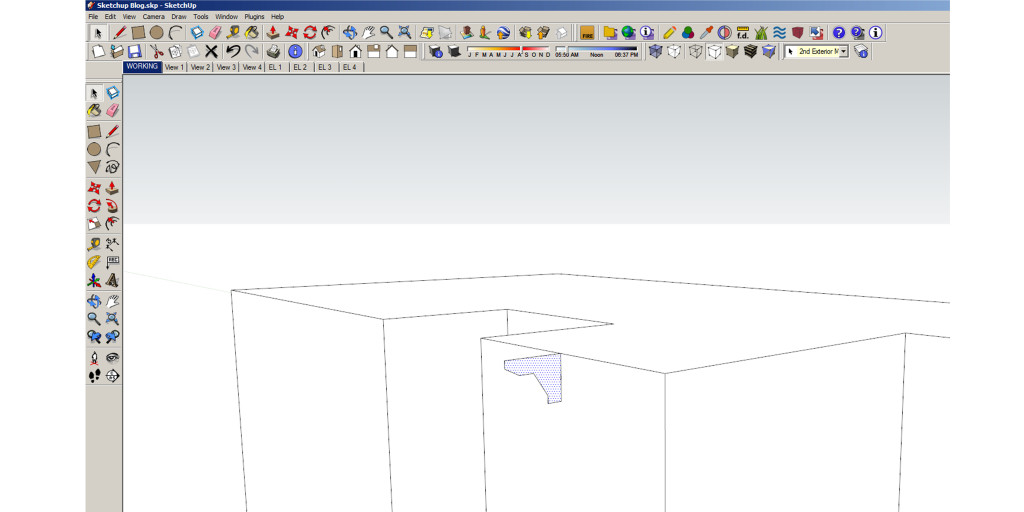 Select the Follow Me tool, click on the shape and drag along path of extrusion: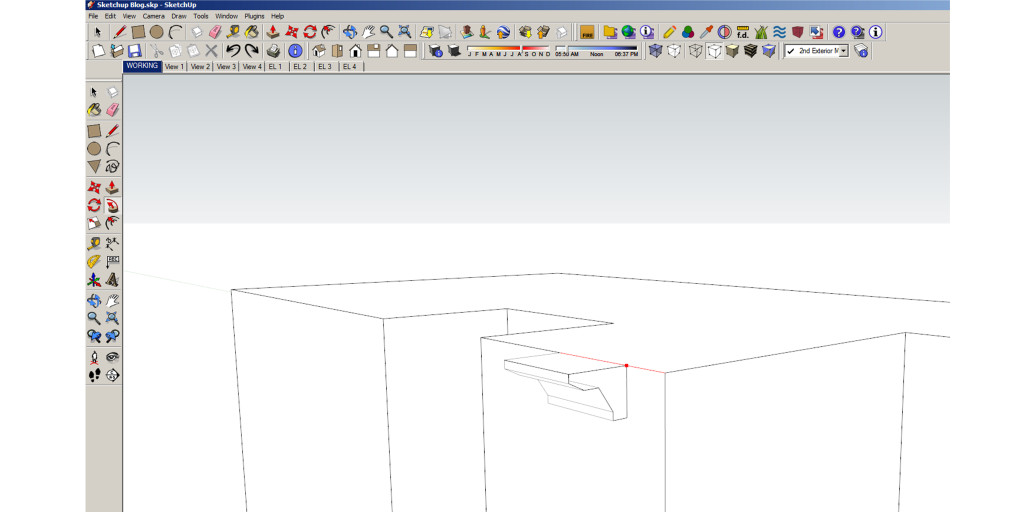 Complete the paths loop: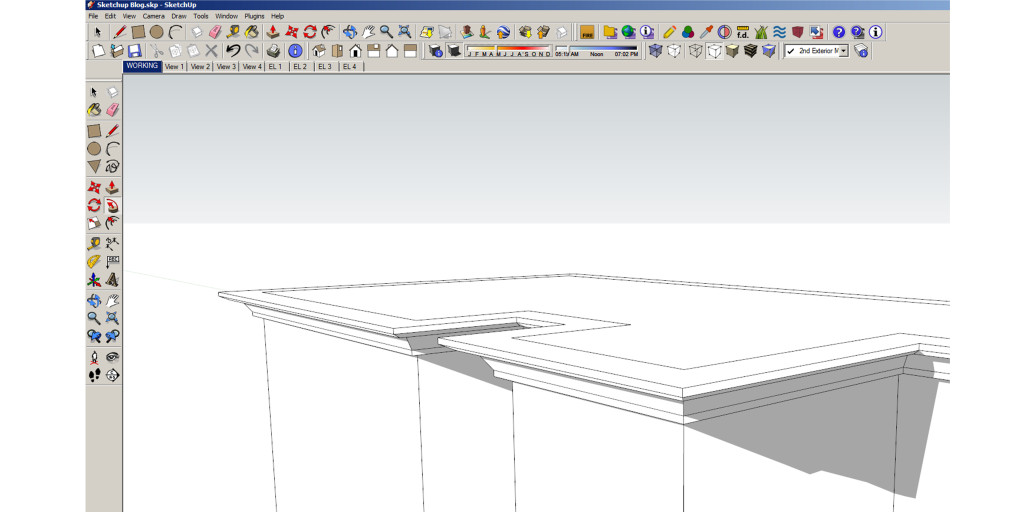 10. A lot of time can be saved by using models/components others have created. Go to: File>3D Warehouse>Get Models and search for what you want. Once imported into your model, they can be edited as you like. You can also share models/components you create, Go to: File>3D Warehouse>Share Model
11. To apply a material, Go to: File>Window>Materials, the Select button should be highlighted, from this dialogue box numerous standard materials can be applied by selecting a material and then using the paint bucket to select the model pieces to receive the material. Be sure to select the Shaded With Texture button in the Styles toolbar or you won't see the material.
a. Once a material is placed it can be edited, Go to: File>Window>Materials, the Edit button should be highlighted, from here you can edit the color, scale, and opacity of the material. You can also use your own images to create materials or images from a manufacturer's website.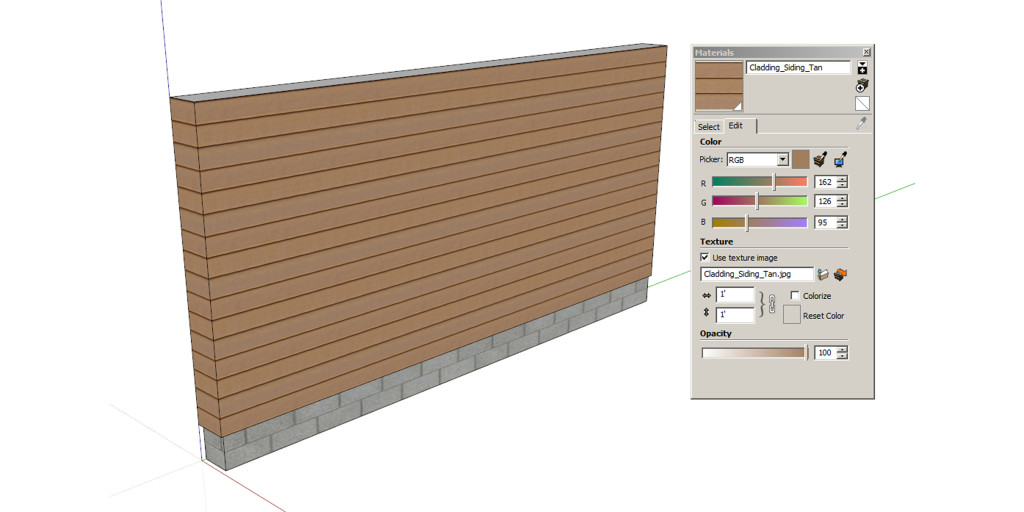 b. After placing materials, you can edit them in the model by right-clicking on the material and selecting Texture>Position (if you right-click again there are some additional options). Four colored 'pin' tools appear that allow you to modify the position and scale of the material. The two most commonly used are the Green 'pin' which allows scaling and rotating of the material and Red 'pin' which allows moving of the material. Using these 'pins' allows scaling of the material to match a known dimension and placing the material at a 'starting' point.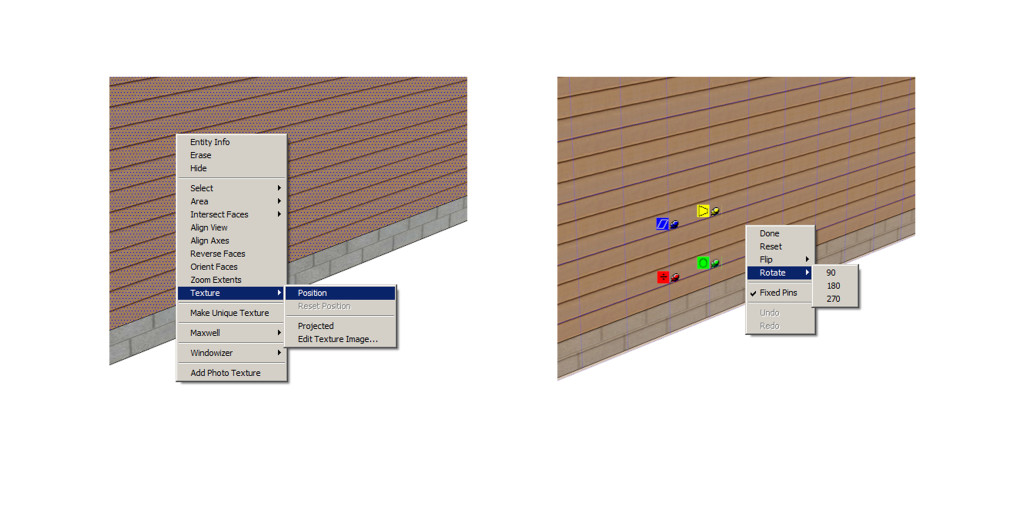 Views and Animations
1. Once you determine vantage points that highlight your model, you'll want to save the views (called 'Scenes') for printing, exporting, or creating animations. To create a scene, Go to: View>Animation>Add Scene, a new tab will be created at the top of the work area. Right clicking the tab allows you to update the scene to the current view. Right clicking a Scene tab also allows you to open the Scene Manager, from here you can rename your Scene and choose which properties are to be saved in the Scene. You also select if the selected Scene is included in an animation or not.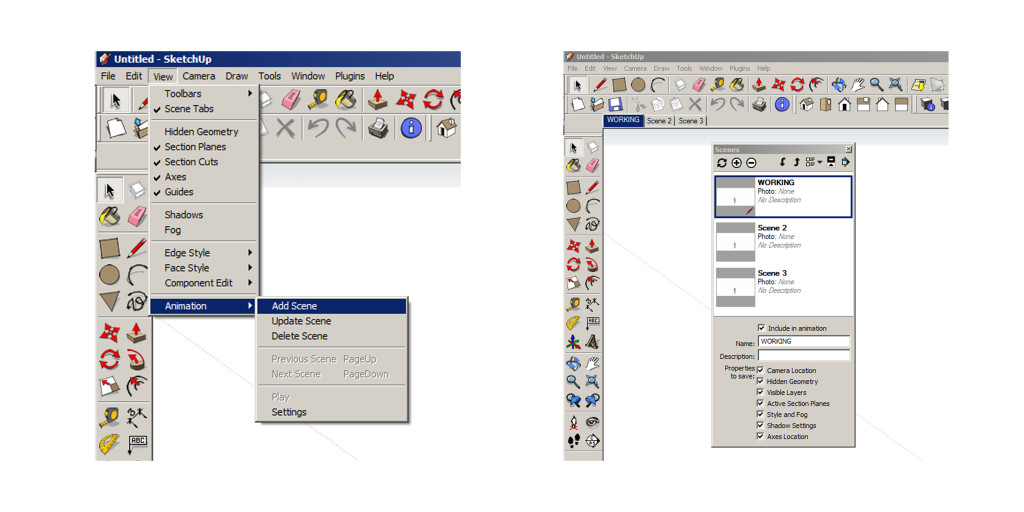 2. Animations can be created from a selection of Scenes, Go to: View>Animation>Settings to set the Scene Transition and Scene Delay times. To play the Animation, Go to: View>Animation>Play or right-click a Scene tab and select Play Animation. Note, Animations will play the Scenes from Left-to-Right. If need be Scenes can be re-organized by either right-clicking a Scene tab and selecting Move Right or Move Left, or from within the Scene Manager Dialogue Box.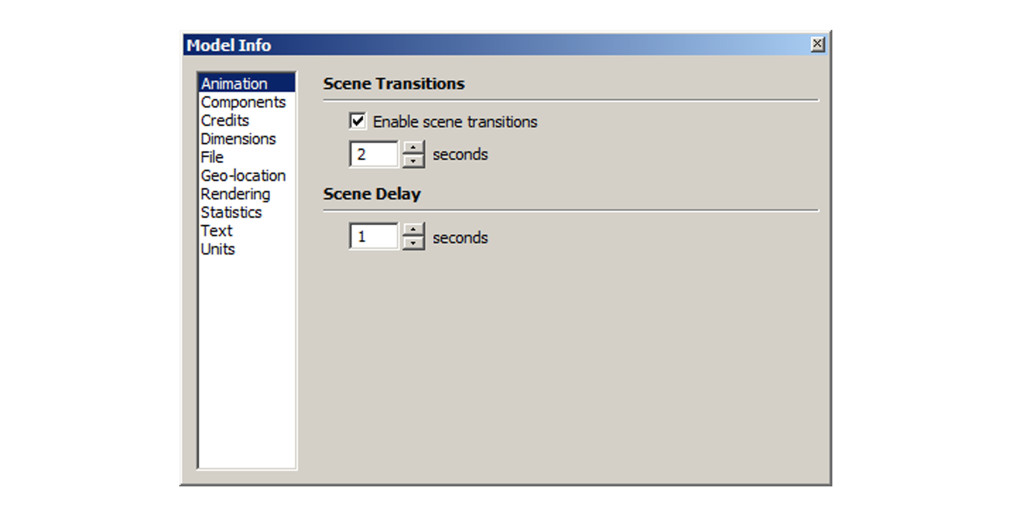 Plugins and Scripts
1. There are several plugins/scripts that can be downloaded to enhance the use of SketchUp. A few of my favorites are:
a. Windowizer- allows you to create windows from a shape.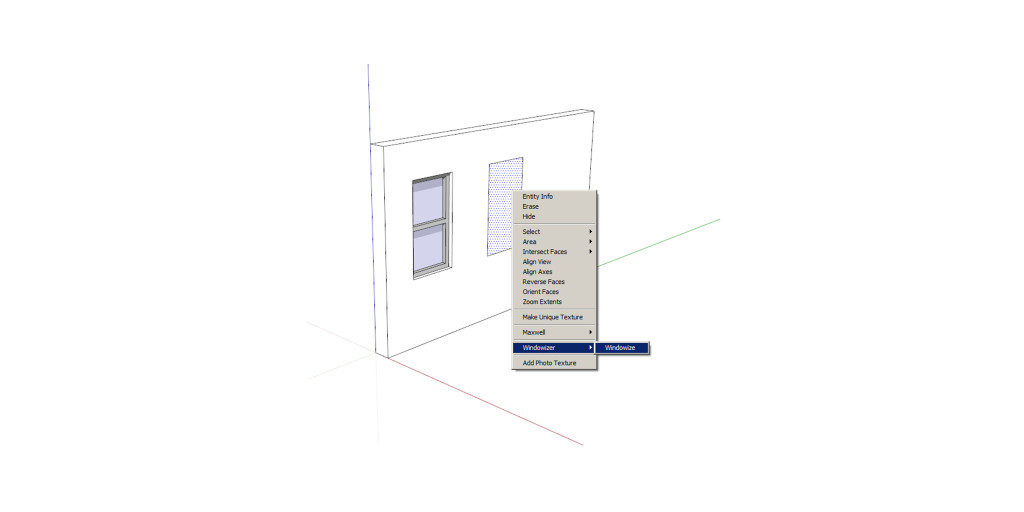 b. Stairs- there are several available to quickly create stairs
c. Roof- allows you to create various roof configurations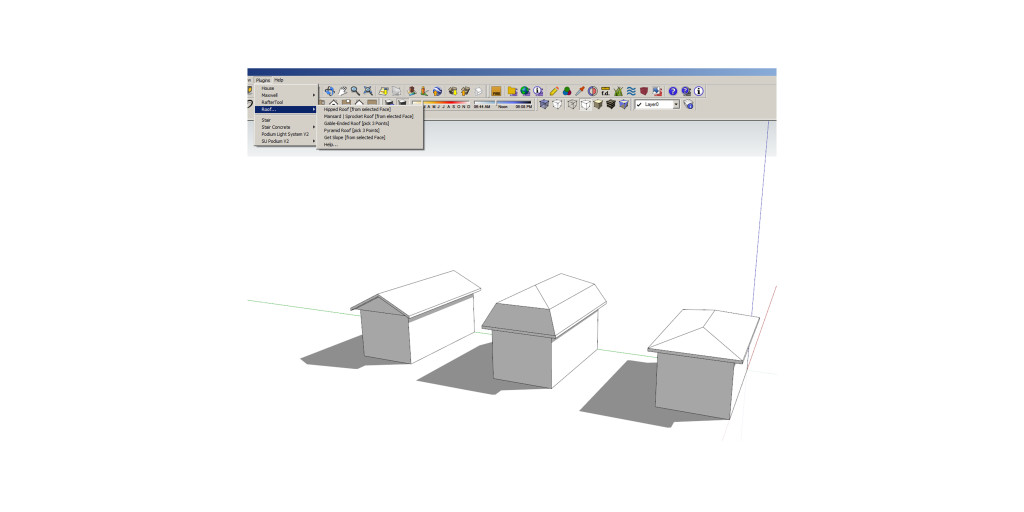 d. Joists- creates floor or roof joists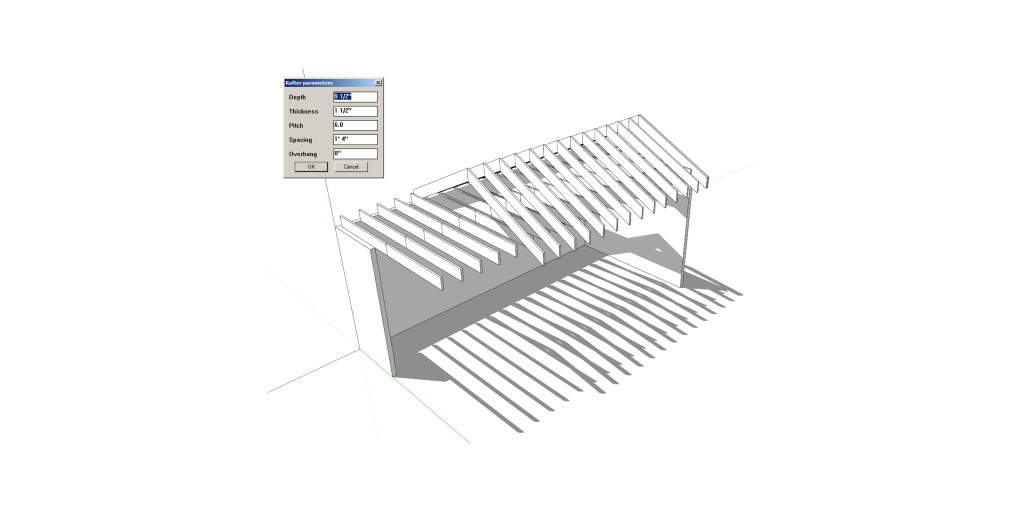 Styles
1. Styles apply filters to your model to give them various looks, such as a hand-drawn look. To apply a style, Go to: Window>Styles> select the left tab Select, now you can view various styles and apply them to your model. From here you can also create your own Style. With a slight bit of research, you can find numerous Styles to download for your use.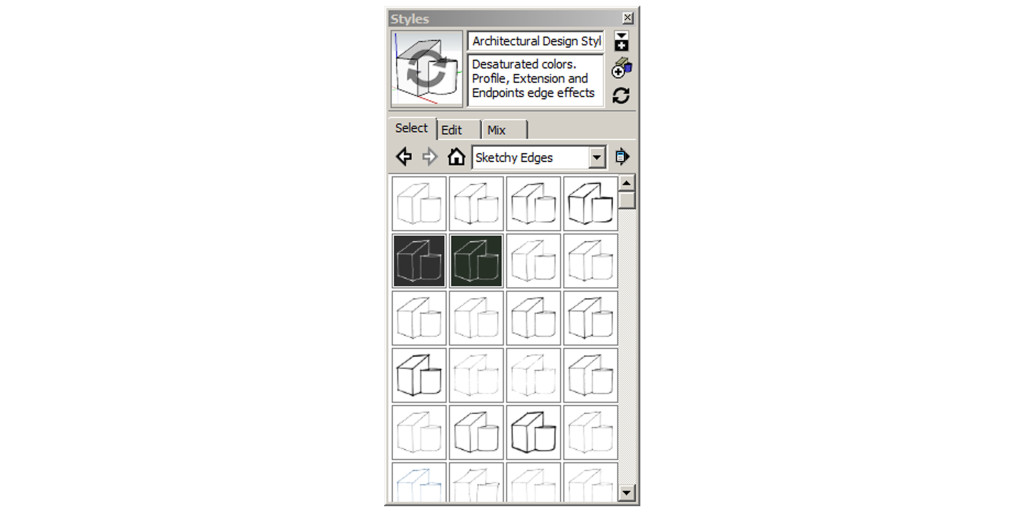 The following images were created from the same file and view; various styles were applied for the differing 'looks.'
Armed with this information one should feel comfortable using SketchUp, even if you've never used it before. For regular users, hopefully this serves as a refresher of the SketchUp basics. Once you start using SketchUp on a consistent basis, you'll realize that there is a lot more you can do with SketchUp and a lot more tools/ information to learn. You'll also realize that there is almost nothing that you can't model in SketchUp. SketchUp is an invaluable design tool and should be in the 'toolbox' of every designer.
If you're looking for a reason to start using or try something new with SketchUp, look no further than the 5th Annual Life of an Architect Playhouse Design Competition This year SketchUp will be funding the construction of one of the playhouses. In addition to their financial support, they have contributed an awesome prize pack! This is a fun thing to do and the end result could be that your playhouse gets constructed and raffled off to benefit needy children. I've entered in the past and will be entering again this year.
Click here to read more about the playhouse competition and how to enter–> 5th Annual Life of an Architect Playhouse Design Competition

So what tips/advice do you have for SketchUp? Post them in the comment section, I'd love to learn some new tips and read how others use SketchUp.
Design On,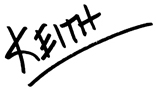 * Go download SketchUp and start modeling, it's addictive! Originally posted January 15, 2014 edited/revised per date above.
(Visited 2,638 times, 1 visits today)