Design Process 101- Programming
This is the first in a series of posts addressing the typical design process of an architect. The goal is to explain what it is we architects do and how we do it. Single family residential projects will be discussed. However, I use the same process for all of our projects. The intent is to de-mystify the design process from the client's perspective- without giving away any magical secrets! I firmly believe that an educated client is our best ally and marketing tool. Oh no, did I just call our clients tools? I mean that in a non Eddie Haskell way.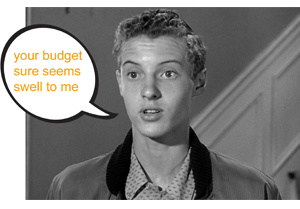 I always look forward to the initial meeting with a client. The 'beginning' is extremely exciting- a great concept to work through, a challenging site, an actual project, and perhaps even 'new' materials to be implemented. We start talking about their goals for the project and quickly delve into relationships of rooms, schedule, budget, schematic design, design development…and then the blank stare. The client has no idea what I'm talking about- time to reign it back in. This happens on almost every project and is part of what we do as architects- educate our clients. Clients are typically most involved with the design process and benefit from being educated as to what it is and how it works.
Deciding What to Build– Programming.
In this initial phase of the design process, we discuss your goals, wants vs. needs, function of the project, design expectations, and available budget (Construction Budget vs. Project Budget). This is a time for information gathering. It is the architect's time to listen, question and explore possibilities. As your architect, I help you arrive at a preliminary budget estimate for design and construction by discussing the ramifications of several design approaches in light of local costs for materials and labor. In this phase, you are encouraged to have a candid discussion of the actual budget for the entire project. Following the discussions, I will produce an outline of the scope of the proposed project for your review/comment and, hopefully- approval.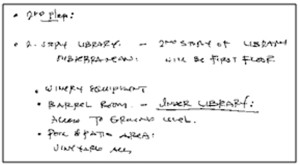 Prior to commencing with your project, it is beneficial if you have done the following- don't worry if you haven't, as your architect I'm here to help you:
1. Engaged Civil Engineer and/or Surveyor as required by your jurisdiction. Some jurisdictions, for example, require a civil engineer to prepare a full boundary survey with topography.
2. Provide your architect with a site survey/plat plan of the subject property.
3. Defined as best you can, and communicated to your architect, your functional and aesthetic goals for your project.
4. Communicated to your architect any budgetary, schedule, or other constraints that you feel are critical to your project.
5. Discussed, to the extent possible, with your architect the feasibility of your project, including any site or zoning issues.
6. Discussed the design process itself with your architect.
The key discussion points noted above are often brought up during our initial consultation with you. Key points are then further refined prior to and during the Programming Meeting. Addition/renovation projects require an Existing Conditions Survey. Even if you have original blueprints, some verification of existing conditions will be necessary. Houses are not always built according to plan- shocking isn't it! This involves field measurements of the existing structure, photographs, reviewing the property in general for obvious conditions that could significantly affect attributes of the program, and preparing scale drawings. This work will be used and relied upon during all subsequent phases of work.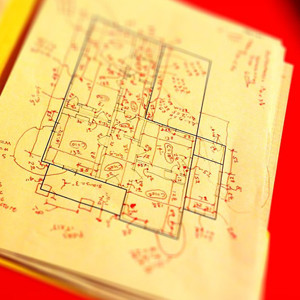 The Programming Meeting often takes place at the same time the Existing Conditions Survey is performed. For this meeting, it is encouraged that you bring pictures and images of home designs, spaces, details, etc. that appeal to you for consideration in the design of your project. So that there is agreement on goals, budget, schedule, etc., after this meeting, a written program is prepared for your review/approval.
So there it is, the first phase of design completed and you can check that one off. Not so bad was it? We are on our way to the home of your dreams. Next Up, Design Process 102- Schematic Design. Stay tuned…
Design On,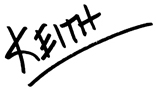 * Originally posted May 17 2012, edited/revised per date above- Keep in mind this is how my firm works. Other firms will differ. However, in general, most architects will adhere to a similar design process. If they don't, well… they're just wrong.
(Visited 1,004 times, 1 visits today)