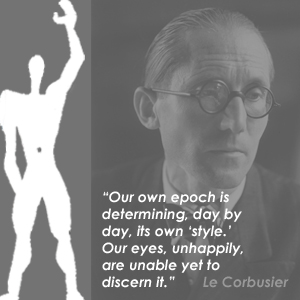 Stated over ninety years ago, the quote above still holds true and will most likely always. However- and you know I've got nothing but love for you Corbu- my 'issue' with the quote is the term 'style'. There are few stronger words in the English language then the word hate- intense or passionate dislike. I rarely use the word. However, I need to state this… I hate the word ''style'.
Residential architecture and the distinctive 'styles,' be it Shingle, Victorian, Craftsman, or Modern, are designed by following a particular set of stylistic rules- massing, elements, materials; each are selected and composed in a particular manner to create a building. These rules produce the type of architecture that makes these 'style's so well-loved. However, 'style' dictates conforming to conventionality; it's a representation or composition of set patterns and canon. Is this a bad thing? No. The typical residential ''styles' make up what most people envision when they imagine a home, and these ''styles' continue to resonate with the majority of homeowners. 'Style' does have its place and there are countless new houses constructed in a particular 'style'. Reproducing homes that are beautiful constructs and akin to the original 'style' can be successful if one adheres to the patterns and rules of the 'style.' However, typically these homes lack coherence because the rules of the 'style' are not consistently followed.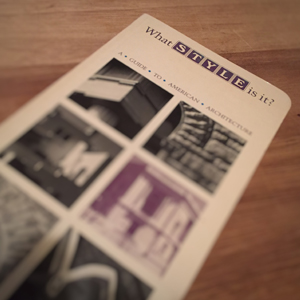 While 'style' does have its place, I'm not overly interested with 'style' in architecture. 'Style' can be very subjective and plastic in architecture. I choose to not start a design with a set 'style' and its inherent dogma. I approach each project by looking to define the inherent design issues- independent of a set 'style' to strive for. I consciously attempt to not root my work in a particular 'style.' I strive to absorb a client's beliefs and wishes and respond with an appropriate design. At the commencement of each project, any 'style' to strive towards is negated- the resultant design is based upon the inherent design problems, client needs, desires, and context. Starting with a particular 'style' as the end goal, limits you to the rules of others from the onset.
I prefer to strive for establishing an aesthetic for the client/ project. The aesthetic arises from arrangement of spaces/ forms, context, materiality, key features, etc. Typical architectural design principles are still adhered to- mass, proportion, scale, etc. However, without the confines of a 'style' the process is much more organic and in-tune with the clients personal needs. 'Style' is someone else's and per their rules… aesthetic is yours and per your rules. Strive for your own aesthetic.
Design On,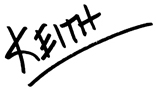 * This post is part of the ArchiTalks series in which Bob Borson of Life of an Architect selects a topic and a group of 'blog-ing' architects all post on the same day and promote each other's blogs. This month's topic is 'Style'– to read how other architects interpreted the topic please click the links below:
Bob Borson – Life of An Architect (@bobborson)
http://www.lifeofanarchitect.com/style-do-i-have-any/
Lee Calisti, AIA – Think Architect (@LeeCalisti)
style…final words
Lora Teagarden – L² Design, LLC (@L2DesignLLC)
The AREsketches Style
Collier Ward – One More Story (@BuildingContent)
Good Artists Copy; Great Artists Steal
Eric T. Faulkner – Rock Talk (@wishingrockhome)
Name That Stile!
Michele Grace Hottel – Michele Grace Hottel, Architect (@mghottel)
"style"
Meghana Joshi – IRA Consultants, LLC (@MeghanaIRA)
Architalks : Style
brady ernst – Soapbox Architect (@bradyernstAIA)
What Style Do You Build In?
Brian Paletz – The Emerging Architect (@bpaletz)
You do you
Michael LaValley – Evolving Architect (@archivalley)
Defining an Architect's Style
Jarod Hall – di'velept (@divelept)
What's Your Style?
Greg Croft – Sage Leaf Group (@croft_gregory)
Architectural Style
Jeffrey Pelletier – Board & Vellum (@boardandvellum)
Should You Pick Your Architect Based on Style or Service?
Samantha R. Markham – The Aspiring Architect (@TheAspiringArch)
5 Styles of an Aspiring Architect
Kyu Young Kim – J&K Architects Atelier (@sokokyu)
Loaded With Style
Nisha Kandiah – ArchiDragon (@ArchiDragon)
Regression or Evolution : Style
Jim Mehaffey – Yeoman Architect (@jamesmehaffey)
What's in a Style?
Mark Stephens – Mark Stephens Architects (@architectmark)
Architectalks 23 – Style
(Visited 244 times, 1 visits today)